Withdrawal Card Request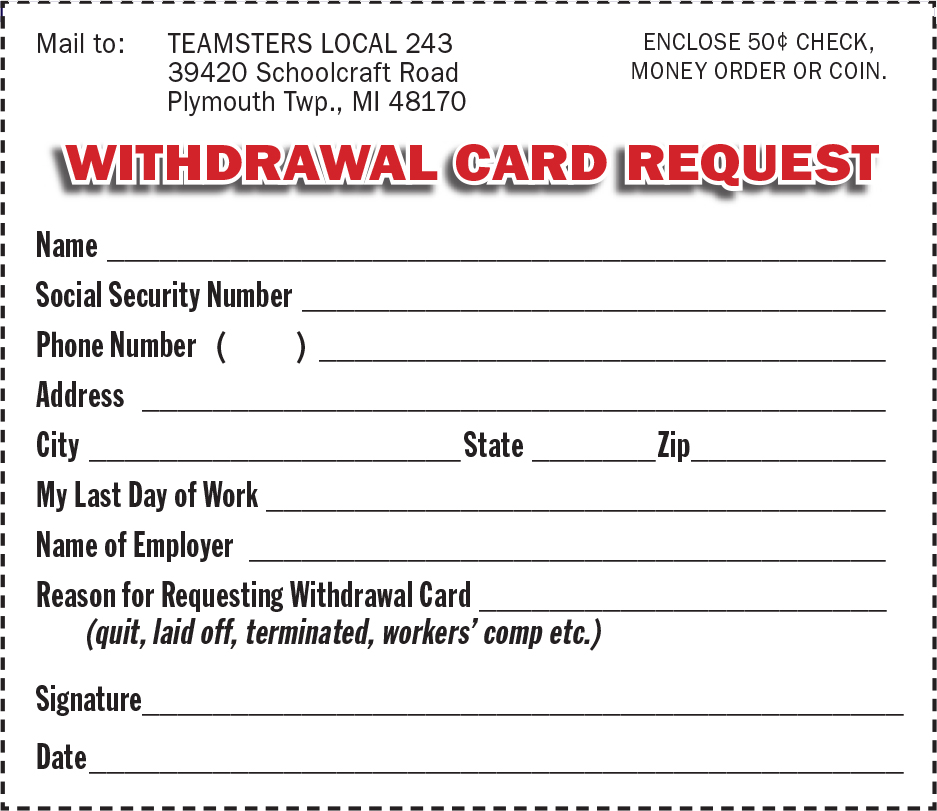 Teamsters Local 243 Withdrawl Card Request Form
Be sure you request a Withdrawal Card when you are being laid-off, leaving your industry, going on a leave of absence, taking a lengthy medical leave or terminating your employment.
The cost for a Withdrawal Card is .50 cents, however all initiation fees and back dues must be paid before the Withdrawal Card is issued.
Stop by Local 243's Union office for a Withdrawal Card form, or complete the form above and mail it to our office along with your check or money order for .50 cents. A Withdrawl Card application is also featured on the back page of each issue of the Local 243 Mirror.
It is your responsibility to obtain a Withdrawal Card after leaving your Employer so that you will not be obligated to pay extra dues. Remember, your failure to request a Withdrawal Card may cause you to pay back dues.
In accordance with Article XVIII Section 6 (i) of the IBT Constitution, it is compulsory for any active member on withdrawal to deposit his/her Withdrawal Card immediately upon return-to-employment at the craft.
Page Last Updated: Jul 198, 2020 (05:06:16)